This is a bit of a sad admission, but I really do love Ad Extensions.
Why?
What's not to love!! Amazingly so many other advertisers don't use them and I get more real-estate in my ad. In some instances, I can get my ad to go from just 3 lines to, in some instances, 7! Happy days.
If you are not sure what Ad Extensions are, well, as the name implies, they are extensions to your ad. They only apply to the Search Network and are additional components to the standard Description Line 1, Description Line 2 and display URL.
You can see in the image below, ad extensions being used.

Why Do You Need To Use Ad Extensions?
Despite the obvious reason that you get more real-estate, Ad Extensions are actually part of the ad rank formula.
Ad Rank formula plays an important role in your ad position and also your underlying cost-per-click (CPC). In fact, here is a really useful by Google video explaining how Ad Rank works.  But essentially, if you care about how much you pay per click (I know I certainly do), you really do need to be using Ad Extensions.
Latest Ad Extension: Price Extensions
Price Extensions is the latest addition to Google's ad extension suite.
They are a great way to show people prices before they click on an ad, which I see as being a good advantage of them. So hopefully you won't be wasting budget on price conscience people who never would have bought anyway.
Another advantage is that when they click on a particular offer, they will go directly to that specific offer page on your website (Just like Google Shopping).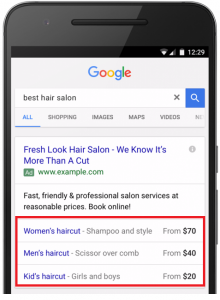 Just like other ad extensions, Price Extensions can be added under the account, campaign, or ad group level depending of course on which ad you like them to show with.
Another advantage is you can specify when you want the Price Extensions to show in terms of dates, days of the week, or times of day.
Since Google just launched Price Extensions, there are still some eligibility before you can enjoy its advantages:
Price extensions are

only showing on mobile

, for now.

Currently available in English only

Only the ad in the top ad position is eligible

to show it, which will no doubt drive up prices for the #1 ad position.
How to setup Price Extensions:
1. Sign in to your AdWords account.
2. Decide whether you'd like to add the price extension at the account, campaign, or ad group level. If you're adding it at the campaign or ad group level, then select the campaign or ad group you'd like to add the extension to.
3. Click Ad extensions.
4. Click View and select Price extensions.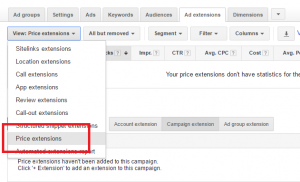 5. Click + Extension
6. Click + Extension.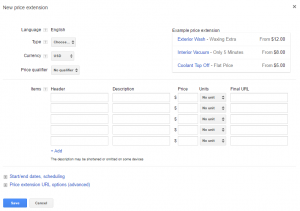 7. Click + New price extension.
8. Specify this particular price extension's language, type, currency, and price qualifier.
9. For 3–8 rows, fill in the fields describing your products or services, the prices of each, and a final URL. Creating 5 or more rows is recommended.
You don't need to use a different final url for each row if you only have one available.

Extensions can be up to 25 characters per header and 25 characters per description. Your description may be shortened for narrower mobile screens. In that case, it will end in ellipses. Keep in mind that your extension may also appear without the description.
Please note that Price extensions may sometimes appear without the description.
Click Save
So, go ahead and start implementing Price Extensions in your account.