Once you have installed your remarketing code and created various lists, now you need to create your remarketing campaign.
If you don't know how to install your remarketing code and create lists, read this article and it should get you on track.
Setting Up A Remarketing Campaign in Adwords
It is best to create a separate and dedicated campaign, just for remarketing. If you are wanting to use multiple lists, best to put them either in a new campaign, or new ad group – definitely don't group them together. Why? Because they will perform differently. So, by separating them, you will be able to compare their performance.
Step by step instructions on creating the remarketing campaign.
1. In the Adwords page, go to "All Campaigns".
2. Select "+ Campaign" and choose "Display Network Only".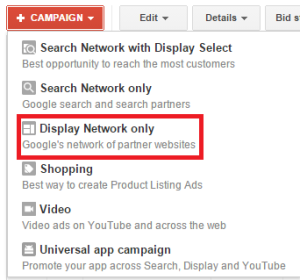 3. Create a name for your campaign.

4. Select no marketing objective, then select All Features.

5. Setup your target location and budget for your campaign.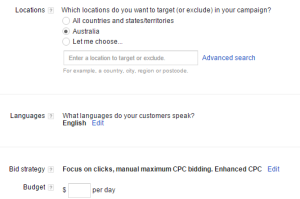 You will now need to setup ad groups based on the remarketing lists that you have created. The idea is to create an ad group per remarketing list that you have created (1 day, 7 days, 14 days, and so on). This will allow you, as mentioned above, to identify what specific duration people are interacting with your ads.
6. Give your Ad Group a name, and a bid for the ad group you're setting up.
7. Make sure to select "Interests & remarketing" under "Choose how to target your ads"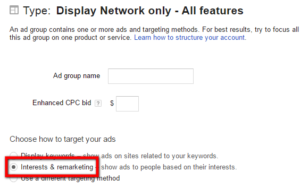 8. Click on "Select Category" and choose Remarketing lists.
9. Click "Save and Continue".
10. You will then create the ads you want for the remarketing campaign. For image ads, be sure to upload images in different sizes to capture different ad placement format on websites.
Don't forget….
Add in the negative placement of adsenseformobileapps.com – you can read what happens if you don't in this case study: finding wasted ad spend
Add in various category exclusions
To include text ads as well, not just banners. But best put them in a different ad group.
Add in banners of different sizes. Here are all the available banner sizes:

320 × 50 Mobile leaderboard
320 x 100 Large mobile banner
468 × 60 Banner
728 × 90 Leaderboard
250 × 250 Square
200 × 200 Small square
336 × 280 Large rectangle
300 × 250 Inline rectangle
120 × 600 Skyscraper
160 × 600 Wide skyscraper
300 × 600 Half-page ad
970 × 90 Large leaderboard
240 × 400 Vertical rectangle
970 x 250 Billboard
300 x 1050 Portrait
We hope you find this article helpful – let us know how you go!